How many uses do we have with plastic storage boxes
Plastic storage boxes come in a massive variety of shapes and sizes for storing just about any object you can think of (shy of an elephant). In this article I will aim to inform you on these many different types of plastic containers and where they are best used.
Self storage containers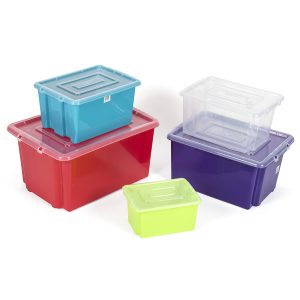 When storing items in self storage facilities you usually want something fairly large and easily mobile. Large plastic storage boxes with lids and the ability to stack on top of each other are ideal in this case. Models with wheels are also useful in this case as a large container that is filled is quite heavy. Remember to label the outside of the box so you know what is inside, unless you are using clear plastic storage containers.
Containers for workshop storage
Heavy duty plastic storage containers are ideal for use in an environment with heavy objects, oils and acids. Many companies specialize in plastic storage bins which can be hung from louvered panels or stacked on top of each other. The design allows you to access each bin even when they are stacked on top of each other. Plastic storage bins also come in a large variety of sizes for different sized parts.
Bedroom and closet organizers
Clothes strewn across the floor, shoes falling out of the wardrobe, no top surface of any furniture uncovered. Does this sound like your bedroom? Installing some open shelving in your closet and then placing small plastic storage containers or plastic baskets on them is a great way to keep your room tidy. Small plastic shoe storage boxes can also be purchased and stacked neatly or placed side by side along the floor of your closet. If you have space under your bed, low profile storage boxes can be wheeled under there neatly out of sight.
Kitchen storage
Plastic food storage containers have been used in fridges and kitchens for years. Companies like Tupperware and Rubbermaid have built their businesses around this necessary household item. A clear plastic storage container is fantastic to put soup or stew in the freezer for later when you make a big batch. Clear containers offer the distinct advantage of being able to see what kind of food is being stored inside. Another great use is to chop up your veggies only every 3 or 4 days and store them in plastic containers in the fridge. This way whenever you need veggies you don't need to get the chopping board and the knife out, just take a handful out a container.